i, vasche ultrasuoni, lavatrici industriali, sabbiatrici, pallinatrici, sandblasting, tunnel lavaggio pentole, washin machine for sinks, tunnel washing"/>
---
WASHING A ROTATING RING
MANUFACTURING FACILITY > WASHING SPRAY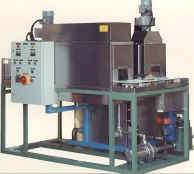 MECHANICAL PARTS WASHING SYSTEM

PLANT ROTATING WASH AREA


Designed for continuous washing of small details, such as gears, printed laminations, ecct.Pper small productions with sensitive components.
Single station loading / unloading with operator.
wash cycle:
degreasing,
rinse
drying.
The pieces are positioned by the operator on a tape of plastic material, or is an area of a circular platform (depending on the type of facility).
The carpet with continuous motion, takes the pieces along the course of treatment, until the return of the zone of unloading / loading.
Time course of treatment about 15 minutes (variable acting on the speed of the conveyor).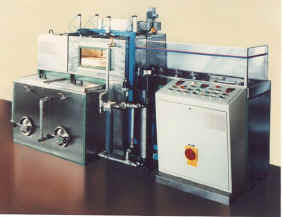 Italiano verso IngleseVisualizza caratteri romani
WASHING PLANT Gears