i, vasche ultrasuoni, lavatrici industriali, sabbiatrici, pallinatrici, sandblasting, tunnel lavaggio pentole, washin machine for sinks, tunnel washing"/>
---
SPECIAL PLANTS
MANUFACTURING FACILITY > WASHING DRAFT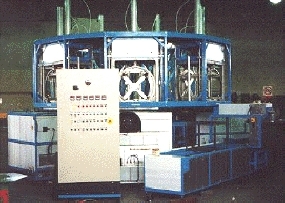 PLANT CLEANING CAROUSEL 6 STATION.

Designed for the packaging of bodies cast aluminum, after machining excellent for small metal parts.
Treatment cycle:
Load/unload baskets,
1° Washing
2° Washing whit ultrasounds.
1° Rinse
2° Rinse
Oven.

Rotation of the baskets, whit exclusion.
Cycle time 25 minutes..
Productivity 2 baskets every 5 minutes.